Home
About the project
Inno4Grass is the acronym for "Shared Innovation Space for Sustainable Productivity of Grasslands in Europe", an international and multi-actor project gathering prominent farmers' organizations, extension services, education and research institutions from eight EU countries - Germany, Belgium, France, Irleand, Italy, the Netherlands, Poland and Sweden, in which grasslands have a considerable share in the agricultural area and where production of dairy, beef and sheep is of major economic imprortance.
Background
The collaboration between farmers, advisors and scientists is insufficient in the countries concerned. For this reason the latest results of research are not sufficiently put into the practice and valuable knowledge related to grasslands is discovered by practitioners at a very late stage. In addition information about existing novelties introducing at farm level is not disseminated effectively to the public in all Member States.
Our goal
The overall objective of the project is to bridge the gap beteen practice and science communities to ensure the implementation of innovative systems on productive grasslands. The long term goal of the project is to increase profitability of European grassland farms and to preserve environmental values. The scope of Inno4Grass is fully in line with the outcomes of the EIP-AGRI Focus Group "Permanent Grasslands" that identified the need for innovations and the possible contributions of grasslands to economic performance and to sustainability of dairy, beef and sheep production in Europe.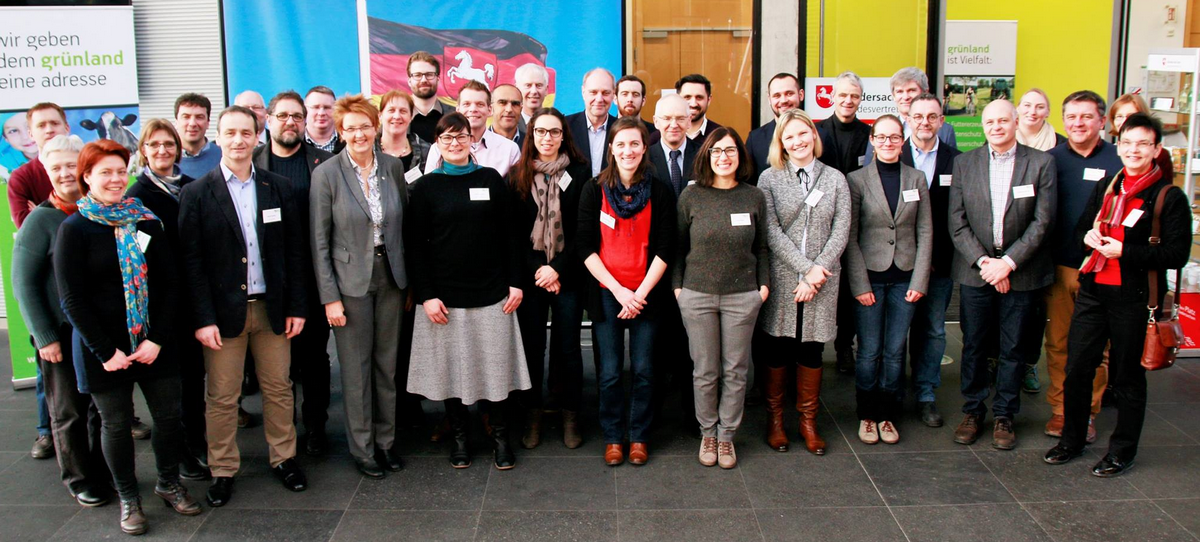 Results
The project significantly contributes to the successful deployment of existing reservoir of scientific and practical knowledge and stimulate its exchange between the regions and countries. This will be achieved through:
the establishment of Facilitator Agents network capturing novelties form innovative farms scrutinized via 85 case studies, discussing and synthesizing them in electronic farm networks
the arrangement plenty of meetings, interviews and face-to-face events in all participating countries
the creation of the project website linked to EIP - AGRI and the involvement of the consortium members at their national contact points
the prepariation of a large number of dissemination materials (innovation abstracts, video clips, leaflets, syllabus for agricultural students and advisors etc.)
the implementation of grassland visiting training programs
the creation of the database of scientific papers with the easy to use search engine (Grassland conference proceedings/paper search database)
the development of new innovative decission support systems and the demand driven research agenda
the enrichment of national and European Wikimedia and the Encyclopedia Pratensis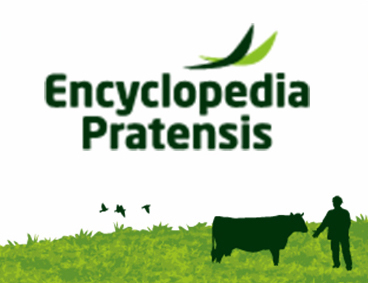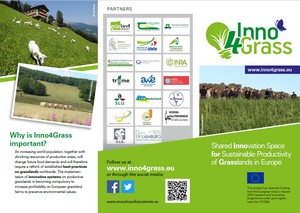 [ Click to open the flyer ]

Inno4Grass Newsletter # 3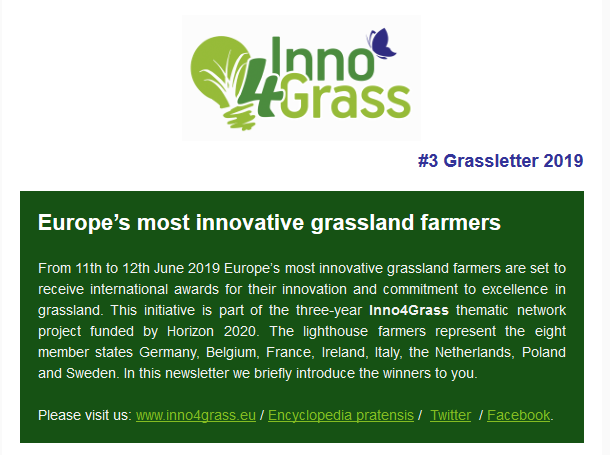 Inno4Grass Newsletter # 2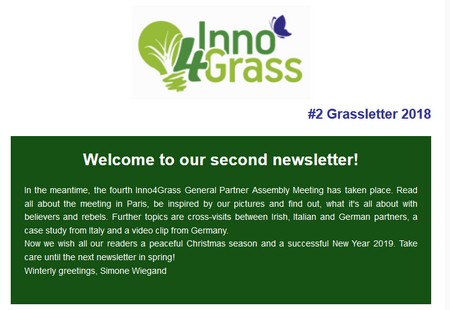 Inno4Grass Newsletter # 1 ()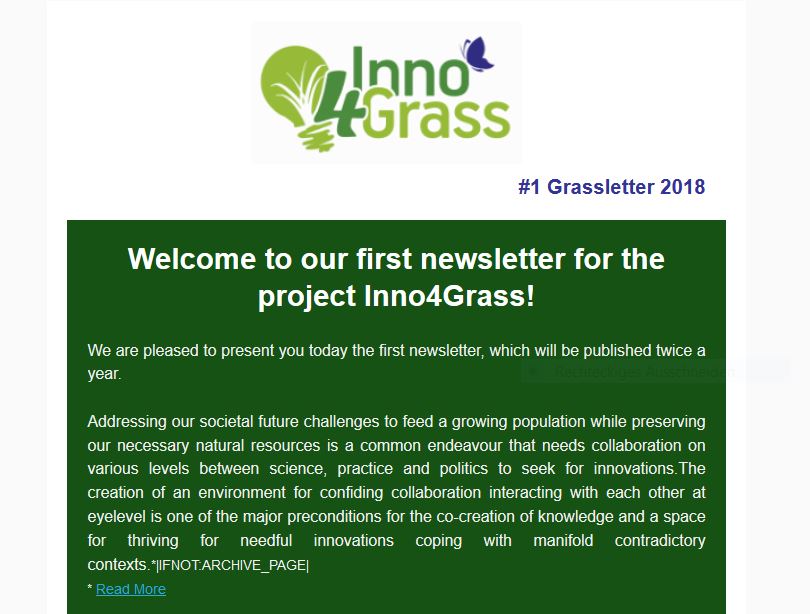 Organisations endorsing the Inno4Grass Project (3)
The network of 59 organisations have committed themselves to support the project.
No

Member State

Organisations Endorsing the Inno4Grass Project

1.


Belgium

Farmer's Union -United Federation of Groups of Livestock and Arable Farmers (www.fugea.be) Role in Inno4Grass: Identification of innovative farmers and best practices (BP) dissemination

2.

FWA, Farmer's Union (Walloon Federation for Agriculture) (www.fwa.be) Role in Inno4Grass: Identification of innovative farmers and best practices (BP) dissemination

3.


Butchery 'Côte à l'os' (www.cotealos.com) Role in Inno4Grass: Development of a grass-fed meat quality label

4.


Coferme scrl (dairy company) (http://bit.ly/1orUYNf) Role in Inno4Grass: Development of a grass-fed dairy product quality label

5.

Higher Education Institution Condorcet, Agricultural Department (Hainaut) (www.condorcet.be) Role in Inno4Grass: Identification of innovative farmers, training outputs, BP dissemination

6.

Higher Education Institution, Agricultural Department (Namur Province) (www.hepn.be/agronomie) Role in Inno4Grass: Identification of innovative farmers, training outputs, BP dissemination

7.

Provincial Secondary School of Ciney, Agricultural Department (Namur Province) (www.saintquentin.be): Role in Inno4Grass: Training outputs, BP dissemination

8.

Higher Education Institution, La Reid School, Agricultural Department (Liège Province) (www.provincedeliege.be/art161) Role in Inno4Grass: Identification of innovative farmers, training outputs, BP dissemination

9.


Farmer's Group: 'Innovative Farms' (www.coop-site.net/fermes-novatrices) Role in Inno4Grass: Identification of innovative farmers, BP dissemination

10.

SlowFood Belgium, citizen associations (http://www.silly.be/ma-commune/citoyennete/qualite-de-vie/saveurs-de-silly) Role in Inno4Grass: Development of a grass-fed meat and dairy product quality label

11.

France

The French Ministry of Agriculture, Agrifood and Forestry (www.agriculture.gouv.fr): Role in Inno4Grass: Training outputs, BP dissemination, innovation boost, definition of research agenda

12.

French Seed Industry Interprofessional Organisation (GNIS) (www.gnis.fr) Role in Inno4Grass: BP dissemination for an improvement of sustainable productivity of grasslands

13.

French Network for Innovative Research in Agriculture (ACTA) (www.acta.asso.fr) Role in Inno4Grass: Identification of innovative farmers, participatory research, open innovation methodology

14.

Union Invivo (www.invivo-group.com) Role in Inno4Grass: Identification of innovative farmers, BP dissemination, training of advisors and farmers

15.

French Association for Fodder Production (AFPF) (www.afpf-asso.fr) Role in Inno4Grass: BP dissemination and knowledge dissemination, national wikimedia, research agenda

16.

Terrena Group (www.terrena.fr) Role in Inno4Grass: Identification of innovative farmers, BP dissemination, training of advisors and farmers, sustainable productivity of grasslands and economic performance

17.


Germany

Federal Office for Agriculture and Food (BLE) (www.ble.de): Role in Inno4Grass: Linking the network to all federal states and all relevant 0perational Groups in Germany

18.


Lower Saxonian Country Women's Association (www.Landfrauenwesermarsch.de) Role in Inno4Grass: BP dissemination and knowledge dissemination,

19.


Lower Saxonian Farmers association (www.landvolk.net) Role in Inno4Grass: Identification of innovative farmers and innovation needs,BP dissemination and knowledge dissemination.

20.

German Organisation for Nature Conservation (www.nabu.de); Role in Inno4Grass: Biodiversity in grasslands, sustainability indicators, research agenda

21.

Ministry for Food, Agriculture of Lower Saxony (www.ml.niedersachsen.de/) Role in Inno4Grass: BP dissemination and knowledge dissemination, national wikimedia, research agenda

22.

Ammerland dairy company (http://www.molkerei-ammerland.de/front-page) Role in Inno4Grass: Development of a grass-fed dairy product quality label

23.

Lidl Foundation (www.lidl.de) Role in Inno4Grass: Development of a grass-fed dairy product quality label ; Fully addressing the value-add chain

24.

Ireland

Irish Grassland Association (www.irishgrassland.com) Role in Inno4Grass: BP dissemination, knowledge dissemination

25.

Glanbia (www.glanbia.com) Role in Inno4Grass: Development of a grass-fed dairy product quality label

26.

Grassland Agro (www.grasslandagro.ie) Role in Inno4Grass: BP dissemination

27.

Germinal Seeds (www.germinalseeds.com) Role in Inno4Grass: BP dissemination

28.

Goldcrop (www.goldcrop.ie) Role in Inno4Grass: Development of a grass-fed dairy product quality label

29.

Italy

LAORE - Sardinian Agency for Rural Development (http://www.regione.sardegna.it/ ) Role in Inno4Grass: Identification of innovative farmers, training of farmers and BP dissemination

30.

Dipartimento Qualita Agroalimentare (DQA) based in Rome: Role in Inno4Grass: BP dissemination

31.

Consorzio del Pecorino Toscano DOP based in Grosseto Role in Inno4Grass: Iidentification of innovative farmers and best practices dissemination

32.

Consorzio per la Tutela del Pecorino di Filiano DOP based in Filiano Role in Inno4Grass: Identification of innovative farmers and best practices dissemination

33.

Gruppo di Azione Locale (GAL) Coros – Logudoro Goceano (Thiesi – Sardinia) (www.gallogudorogoceano.it/) Role in Inno4Grass: Identification of innovative farmers and best practices dissemination

34.

Allevatori di Mores: Breeders cooperative association – Mores (Sardinia) (http://www.coopmores.net/) Role in Inno4Grass: Identification of innovative farmers and best practices dissemination

35.

Comitato Promotore Agnello IGP del Centro Italia (www.agnellodelcentroitalia.it) Role in Inno4Grass: Identification of innovative farmers and development of a grass-fed meat product quality label

36.

High Provincial Agricultural Technical School of Sassari (Sardinia) (www.iispellegrini.it/) Role in Inno4Grass: training outputs and syllabus dissemination

37.

Bring Advisory Service mountainous agriculture (http://www.bring.bz.it/) Role in Inno4Grass: Identification of innovative farmers, participation in discussion groups, dissemination of best practice

38.

Autonomous Province Bozen – South Tyrol Abt. 22 Agricultural Education (http://www.provinz.bz.it/land-hauswbildung/) Role in Inno4Grass: Participation in discussion groups, dissemination of best practice

39.

The Netherlands

FrieslandCampina (www.frieslandcampina.com) Role in Inno4Grass: Development of a grass-fed dairy product quality label, Identification of innovative farmers, BP dissemination.

40.

Barenbrug Holland BV (www.barenbrug.com) ; Role in Inno4Grass: Best practices dissemination

41.

Groen Kennisnet: The Netherlands Organisation "Green Knowledge Network Livestock" (https://www.groenkennisnet.nl/nl/groenkennisnet.htm) Role in Inno4Grass: Training, best practices dissemination, participatory research, definition of research agenda

42.

The Netherlands Society for Grassland and Fodder Crops (www.nvwv.nl); Role in the project: Best practices dissemination, definition of research agenda

43.

Dutch Dairy Organisation (http://www.nzo.nl/en) Role in Inno4Grass: Identification of innovative farmers, best practices dissemination, evaluation of champion grassland farmers

44.

The farmers' association Southern Agricultural and Horticultural Organisation (ZLTO) (www.zlto.nl/english): Role in Inno4Grass: identification of innovative farmers, best practices dissemination, sustainable productivity of grasslands and economic performance of their farmers

45.

Limburgse Land- en Tuinbouwbond, (LLTB) (Representatives of the dairy farmers in the Province Limburg in the Netherlands) (www.lltb.nl) Role in Inno4Grass: Identification of innovative farmers, best practices dissemination

46.

Stichting Weidegang (Dutch Grazing Foundation) (www.stichtingweidegang.nl) Role in Inno4Grass: Identification of innovative farmers, best practices dissemination, training,

development of a grass-fed dairy product quality label

47.

Poland

The Polish Federation of Cattle Breeders and Dairy Farmers (www.pfhb.pl) Role in Inno4Grass: Identification of innovative farmers, BP dissemination, training outputs

48.

The Polish Grassland Society (www.up.poznan.pl/ptl/) Role in Inno4Grass: Identification of innovative farmers, BP dissemination, innovation boost, research agenda

49.

The Polish Seed Trade Association (www.pin.org.pl) Role in Inno4Grass: Best practice dissemination for an improvement of sustainable productivity of grasslands, based upon improved varieties of grasses and legumes as well as seed mixtures

50.

Marshal Office of the Wielkopolska Region in Poznan (www.umww.pl) Role in Inno4Grass: Training outputs, BP dissemination, innovation boost

51.

Center of Agricultural Advisory in Brwinow (www.cdr.gov.pl) Role in Inno4Grass: Best practice dissemination, training of advisors and farmers

52.

Sweden

The Swedish Organic Farmers Association (www.ekolantbruk.se) Role in Inno4Grass: Sustainable productivity of grasslands and economic performance of their organic farmers, identification of innovative farmers, BP dissemination

53.

The Federation of Swedish Farmers (www.lrf.se/om-lrf/in-english/ ) Role in Inno4Grass: Sustainable productivity of grasslands and economic performance of their farmers, definition of research agenda

54.

Hushållningssällskapens förbund (www.hushallningssallskapet.se/in-english/ ) Role in Inno4Grass: Identification of innovative farmers, BP and knowledge dissemination, training

55.

The Lovang Lantbrukskonsult AB (www.lovanggruppen.se/lantbrukskonsult-start/) Role in Inno4Grass: Identification of innovative farmers, BP and knowledge dissemination, training

56.

Växa Sverige (www.vxa.se/Documents/A5_Broschyr_On_our_way_engelsk.pdf ) Role in Inno4Grass: Identification of innovative farmers, BP and knowledge dissemination, training outputs, evaluation of champion grassland farmers

57.

EU-Wide

The European Grassland Federation (www.europeangrassland.org) Role in Inno4Grass: EU-wide dissemination of knowledge, research agenda

58.

COPA COGECA (http://www.copa-cogeca.be) Role in Inno4Grass: EU-wide dissemination of knowledge, research agenda, linking the project to other projects and initiatives

59.

European Forum For Agricultural and Rural Advisory Services (EUFRAS) (http://www.eufras.eu) Role in Inno4Grass: Dissemination, training of farmers and BP disseminationPartners